I love having a few things around the apartment to make it feel a bit more feminine and "homey" and two of my favorites are candles and flowers. Both scented items- which with a new puppy who tends to smell like a salmon some days
(its amazing how dirty they can get in the city!),
helps mitigate some of the dog smells. While I understand that the expensive candles like
dyptyque
and other high end candles burn long and having some amazing scents- I am bit more about the affordable and somewhat long lasting candles. Here are three of my favorites:
1)
Anemone
by Illume (purchased via Furbish)
Illume doesn't carry the exact candle I bought two of (since I loved the smell and ceramic container so much) but the new enameled tumbler is beautiful and I can't wait to get my hands on it! This candle has quite a lengthy burning time and the scent is glorious and really permeates a room. A bit earthly but still light and reminds me of something I'd smell in a very soothing spa. One of my more expensive candles, but the size and burning time make it worth it.
I've written about this candle and
Lit & Co. before
, but I can't get enough. I just can't. I have to ration my candles since I purchase in bulk and then drag them back to DC with me. And yes, while I know I can order online and have it shipped- I love the experience of going into their amazing downtown store when I am home and smelling things for myself before purchasing. My ultimate favorite still is the White Tea Scent. It is light, airy and makes your room smell refreshed and inviting. It isn't overpowering either; so I feel like it is something you could burn with guests over without the risk of turning off some one's nose. For the price, these are amazing candles. Other recommended scents: abalone, cabin in the woods, garden rose, and cotton tree.
Target. I mean. Target. There are always great things at Target and the candle isle is no exception. They have tons of great scents, but this one seems to win me over. Light, floral, and in a wonderful jar that when you are done with, can be turned into a lovely vase for roses and flowers. I've turned many a friends onto this scent because for the price (and with a coupon!) is so affordable and so lovely as an everyday candle. This one burns a little bit faster- but for the price point, you can't complain.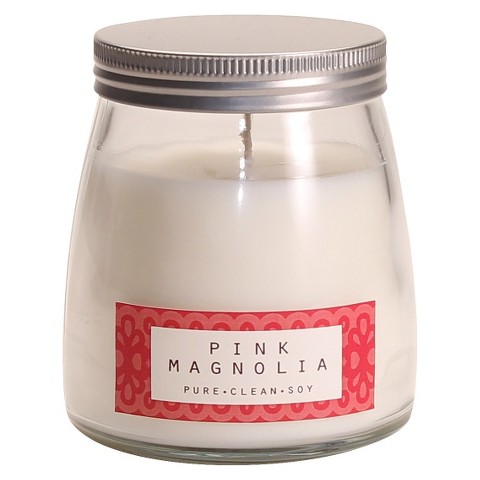 Does anyone have any favorite candles/scents I have to try? I am always looking for a new favorite and seasonal options!